Actors: Amber, Drew and Justin Ferreira
Born : 3rd July 1994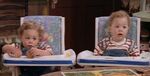 Amber, Drew and Justin Ferreira are Triplets that shared the roles of Matthew and Gregory Barone in the pilot episode of the show.
Biography
Edit
Amber, Drew and Justin were born in Southern California. Also, This is Drew Ferreira editing this to say SEE!!!!! to anyone i have told to look up my name on google. Thank you.
This is Drew's mother editing this to say my son has never appeared in any TV show. He was at home with me, suffering from a bad case of diarrhoea. Amber and Justin appeared as the Barone twins. Drew was never, in any way, involved in the filming of Everybody Loves Raymond.
Filmography
Edit
Television
Edit
(1996)
Ad blocker interference detected!
Wikia is a free-to-use site that makes money from advertising. We have a modified experience for viewers using ad blockers

Wikia is not accessible if you've made further modifications. Remove the custom ad blocker rule(s) and the page will load as expected.