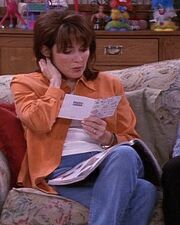 The Baby shower invitation appeared in the episode "Civil War".
Ray and Debra's friends Tom and Mary Ann sent them the invitation...and Ray was dreading going to the shower and tried everything to get out of it.
The message in the invitation, which Debra read aloud, said:
Dear Ray and Debra, we hope each of our guests will make a presentation. You can recite a poem, do a skit. The proud parents will tape it as a tribute to the child.
Ad blocker interference detected!
Wikia is a free-to-use site that makes money from advertising. We have a modified experience for viewers using ad blockers

Wikia is not accessible if you've made further modifications. Remove the custom ad blocker rule(s) and the page will load as expected.