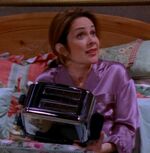 The engraved toaster is a gift that Ray gave out to all the friends and family on Christmas. Warren and Lois, Frank and Marie, Robert, Gayle, Andy, and Linda and Bernie Gruenfelder were among some of the recipients. The toaster was made by Toast Pro.
The engraving on the toaster read: "Merry X-mas. We love you. Michael, Geoffrey, Ally, Debra, and Ray."
Frank and Marie ended up taking their toaster to Bloomingdale's and exchanging it for a Cuisinart coffeemaker.
The engraved toaster only appeared in the Season 3 episode "The Toaster".
Ad blocker interference detected!
Wikia is a free-to-use site that makes money from advertising. We have a modified experience for viewers using ad blockers

Wikia is not accessible if you've made further modifications. Remove the custom ad blocker rule(s) and the page will load as expected.