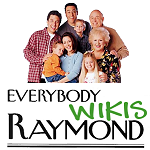 Everybody Wikis Raymond is the Everybody Loves Raymond Wiki and strives to be the best on-line resource for everything "Raymond". It's created for the fans by the fans with information on everything from episodes and characters to behind-the-scenes info such as the co-creator Phil Rosenthal and where to buy DVDs and books.
Having a love for the show, Wikia user Dubya Scott created the Everybody Loves Raymond wiki on May 23, 2007. It used the old 150x150 pixel wiki logo, portraying all the main characters of the show, on Wikia's now extinct Monobook and Monaco skins.

At first, Dubya Scott was the only contributor. But over the next few years, the Wiki slowly attracted other editors. It reached 500 articles in 2010. In Fall of that year, Wikia changed their skin again and completely did away with the Monobook and Monaco skins. Then the main Wiki logo changed to the 250x65 pixel wordmark image.
On August 21, 2012, Wikia's "Related Videos" module was activated and could be seen on the right side of any article.
Ad blocker interference detected!
Wikia is a free-to-use site that makes money from advertising. We have a modified experience for viewers using ad blockers

Wikia is not accessible if you've made further modifications. Remove the custom ad blocker rule(s) and the page will load as expected.