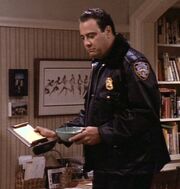 The line "Everybody loves Raymond" is only spoken twice in the entire series of the TV show of the same name.
In the pilot episode, Robert (Ray's brother) sees an award Ray got for his sports column. Being the jealous brother that Robert is, he sarcastically comments, "Everybody loves Raymond."
This scenario also tells the viewer what the show is all about: Everyone seems to love Ray, but they always forget about his brother Robert.
In the episode entitled "Fascinatin' Debra", Debra is seen imitating Robert. As she thrusts potato chips into her chin, she says the line "Everybody loves Raymond."
Ad blocker interference detected!
Wikia is a free-to-use site that makes money from advertising. We have a modified experience for viewers using ad blockers

Wikia is not accessible if you've made further modifications. Remove the custom ad blocker rule(s) and the page will load as expected.