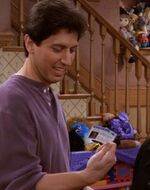 While cleaning out Frank's old 1972 Plymouth Valiant, Ray's old fake ID was found in the trunk.
Even though the ID said he was 43-year-old Ahmed Abdullah Khan, Ray was only 17 years old when he used it.
It was seen briefly in Season 1, Episode 15 "The Car".
Ad blocker interference detected!
Wikia is a free-to-use site that makes money from advertising. We have a modified experience for viewers using ad blockers

Wikia is not accessible if you've made further modifications. Remove the custom ad blocker rule(s) and the page will load as expected.