This is an archive of the articles that have been featured on the Main Page.
November 2010
Edit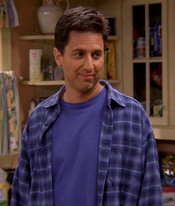 Ray Barone is the title character of Everybody Loves Raymond. Life in the sitcom revolves around him.
Living in Lynbrook on Long Island with his wife and children, Ray is a Sports Columnist for the local newspaper Newsday. He and his wife Debra cope with the everyday struggles of raising a daughter Ally and twin boys Michael and Geoffrey. Ray's major problem is the rest of the Barone family: his parents Frank and Marie, as well as his brother Robert that just happen to live directly across the street. (read more...)
Ad blocker interference detected!
Wikia is a free-to-use site that makes money from advertising. We have a modified experience for viewers using ad blockers

Wikia is not accessible if you've made further modifications. Remove the custom ad blocker rule(s) and the page will load as expected.