Name: Gus
First Appearance: Season 1, Episode 3: "I Wish I Were Gus"
Number of episodes: 1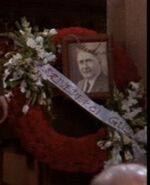 Gus is an old member of the family. The character is never actually seen in the show, only spoken about at his funeral.
Ray has to give a eulogy for his uncle Gus, and he mentions that Gus Patrone was actually born Gustafavio Beiperceilu in 1902. Gus made a living working at Carpet World in Manhasset, he had problems with his prostate in 1992, and he could belch the alphabet to the letter "M".
Gus was apparently one of the more well-liked family members.
He died of a heart attack and the funeral is shown in the episode "I Wish I Were Gus".
Episode Appearances
Edit
Ad blocker interference detected!
Wikia is a free-to-use site that makes money from advertising. We have a modified experience for viewers using ad blockers

Wikia is not accessible if you've made further modifications. Remove the custom ad blocker rule(s) and the page will load as expected.