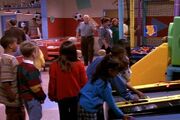 The Happy Zone
is a Chuck E. Cheese's type of place for kids to play in
Everybody Loves Raymond
. It has skeeball, ball pits, arcade-style
video games
, prizes, food, and drinks. It is also the place where the Barone family argues about
Frank
's bad driving. And it costs $3 to park in The Happy Zone's parking lot.
The Happy Zone only appeared in one episode:
But it was mentioned, and not seen, in:
Ad blocker interference detected!
Wikia is a free-to-use site that makes money from advertising. We have a modified experience for viewers using ad blockers

Wikia is not accessible if you've made further modifications. Remove the custom ad blocker rule(s) and the page will load as expected.