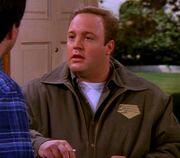 The International Parcel Service, or IPS, is a fictional international delivery service parodied from the real UPS (United Parcel Service).
Ray's friend Doug Heffernan is one of the delivery men.
IPS wasn't actually created for "Everybody Loves Raymond", but rather actor Kevin James' show "The King of Queens". And when CBS crossed-over some characters with other TV shows, the character Doug ended up wearing his IPS uniform in an episode of Everybody Loves Raymond (Season 3, Episode 9: "The Lone Barone").
Ad blocker interference detected!
Wikia is a free-to-use site that makes money from advertising. We have a modified experience for viewers using ad blockers

Wikia is not accessible if you've made further modifications. Remove the custom ad blocker rule(s) and the page will load as expected.