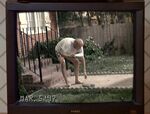 Mack's video tape shows Frank and his obnoxious behavior. Mack video taped him over the course of a few mornings so that he would have proof of his behavior.
The footage on the tape shows Frank dropping his food on the ground and then eating it, scratching his butt, and also dropping his towel, showing "everything" to the neighborhood.
The viewer is shown the tape in Season 1 Episode 20 "Neighbors".
Ad blocker interference detected!
Wikia is a free-to-use site that makes money from advertising. We have a modified experience for viewers using ad blockers

Wikia is not accessible if you've made further modifications. Remove the custom ad blocker rule(s) and the page will load as expected.