Explore the Wiki
| | | |
| --- | --- | --- |
| The Show | | Behind The Scenes |
Random Quote
Marie: "Ray, we told you you were a good writer so that you would think you were a good writer. See, then somebody gave you a job. That's what parents do, they all lie to their kids for their own good."
Ray: "But other parents aren't lying, Ma. They believe in their children."
Marie: "No they don't."
Featured Article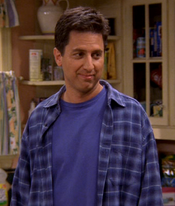 Ray Barone is the title character of Everybody Loves Raymond. Life in the sitcom revolves around him.
Living in Lynbrook on Long Island with his wife and children, Ray is a Sports Columnist for the local newspaper Newsday. He and his wife Debra cope with the everyday struggles of raising a daughter Ally and twin boys Michael and Geoffrey. Ray's major problem is the rest of the Barone family: his parents Frank and Marie, as well as his brother Robert that just happen to live directly across the street. (|read more...)
News Feed
Oct. 12, 2012
Sept. 28, 2012
Sept. 26, 2012
Sept. 13, 2012
Aug. 21, 2012
On This Day
July 31:

(No events listed yet.)



Image Galleries
Helping Out
You can help out Everybody Wikis Raymond by taking on some of the things that need to be improved upon. Please visit the Improvement list for more information.

-

If you need help with editing or any other wiki-related things, please visit Wikia Help on the Central Wikia.
IMPORTANT NOTICE: Everybody Wikis Raymond is maintained by the fans, for the fans. It is in no way affiliated with CBS, Worldwide Pants nor HBO.