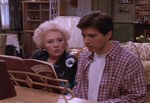 In Season 2, Episode 4 "Mozart", Ray is having a piano lesson from Marie.
Marie's basics about posture are:
"Leaning in - sitting up's for the dinner table."
"Relaxed elbows and in - we're not flying away."
And about remembering which notes are which:
"F-A-C-E - face, are the notes in the spaces."
"E-G-B-D-F are the notes with the line running through it."

"Every Girl Bakes Delicious Fudge"
But Ray had his own way of remembering the notes:
"Ellen Garvey's Behind Deserves Framing"
"Eric Gunsel Boinked--" (Marie interrupted him before the viewer could hear the rest.)
Marie also had all the different colored books from Beginner to Advanced. She also had a lot of songs to play. Some of which were "Pretty Polly", "Eskimo Boy", and "Theme from Love Story".
Ad blocker interference detected!
Wikia is a free-to-use site that makes money from advertising. We have a modified experience for viewers using ad blockers

Wikia is not accessible if you've made further modifications. Remove the custom ad blocker rule(s) and the page will load as expected.