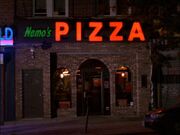 Nemo's Pizza
later known as
Marco's Pizza
is a popular hang out for the characters of
Everybody Loves Raymond
. It was run by
Nemo
himself, until
Marco Fogagnolo
took over the pizzeria.
Suzy
and
Angelina
are both waitresses there. The restaurant also sponsors some of the sports teams in the area. Nemo's, which is actually named "Trio Ristorante Pizza & Grill" is located at 1907 Avenue U, Brooklyn, NY. It's a running joke of the series that the restaurant has very poor hygiene and does not meet health regulations. This is seen most prominently in the banter between Raymond and Nemo.
The episodes that Nemo's Pizza has appeared in are:
And it was only mentioned, but not seen, in:
Ad blocker interference detected!
Wikia is a free-to-use site that makes money from advertising. We have a modified experience for viewers using ad blockers

Wikia is not accessible if you've made further modifications. Remove the custom ad blocker rule(s) and the page will load as expected.