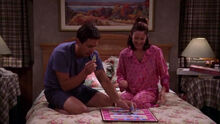 The second episode of Season Six.
Synopsis:-
Edit
When Ray and Debra sit down to play "Sensuoopoly", it's clear that they have very different approaches to playing the game, which leads to a rather uncomfortable conversation about ways they can improve their intimacy after being together for 12 years.
Again, for some reason, this is omitted from repeat screenings in Great Britain. When approached to ask why certain Series Six episodes are omitted from the repeat schedule, noticeable because C4 takes great pains to keep all ELR episodes in series order, a channel spokesperson replied (vaguely)
Thank you for contacting Channel 4 Viewer Enquiries regarding EVERYBODY LOVES RAYMOND.

We appreciate the time that you have taken to contact us. Unfortunately the scheduling of certain series and indeed episodes, is determined by a number of factors.

Our scheduling team must consider the content of each programme along with the expected audience during the broadcast time, added to that, we do not always hold the rights to repeat all of a particular series. This is particularly true of American programmes such as The Big Bang Theory.

However we can advise that our schedulers will always try to repeat the best or most popular episodes of shows, whilst at the same time keeping to the continuity of the series as much as possible. We also invest heavily in new programming to bring viewers the newest possible American series along with home grown programmes.
Enquiries are continuing...
Ad blocker interference detected!
Wikia is a free-to-use site that makes money from advertising. We have a modified experience for viewers using ad blockers

Wikia is not accessible if you've made further modifications. Remove the custom ad blocker rule(s) and the page will load as expected.