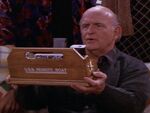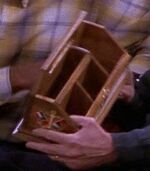 The Remote Boat is a gift that Robert gave Frank on his 65th birthday. It's a way to carry your remotes with you wherever you sit in the room, or if you go to a different room.
The long rectangular compartment is for the TV Guide magazine, the two smaller square compartments are for the different remotes, and the larger compartment on the right is for your soda or beer.
Frank didn't end up keeping the Remote Boat for his remotes. Instead, he used it as a coffin for Stan "the fish" when he died, because little Ally wanted a ceremony for him.
The Remote Boat only appeared in the Season 2 episode "The Gift".
Ad blocker interference detected!
Wikia is a free-to-use site that makes money from advertising. We have a modified experience for viewers using ad blockers

Wikia is not accessible if you've made further modifications. Remove the custom ad blocker rule(s) and the page will load as expected.