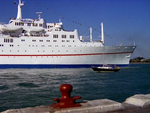 The Star Princess cruise ship, owned by Carnival, was the ship upon which Ray and Marie traveled. Their room number was 848.
Some of the activities available for the guests included skeet shooting, candle-making, bingo, origami, shuffleboard, bridge, Jazzercize, and Tai Chi. For food, there was a waffle bar, omelet bar, tostada bar, and a pie buffet, all of which Ray visited. The ship also had a discothèque.
Other people aboard the cruise ship while Ray and Marie were there included Ted, Walter, Thelma, Mary Beth and her husband, the origami teacher Mr. Sasa, and a group of women calling themselves the Merry Widows.
The cruise ship only appeared in the episode "Cruising with Marie".